Welcome to 30A Elite Carts!
We Have the Golf Carts You Need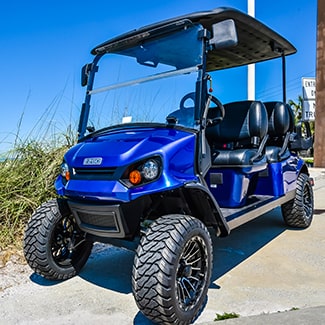 Blue Lagoon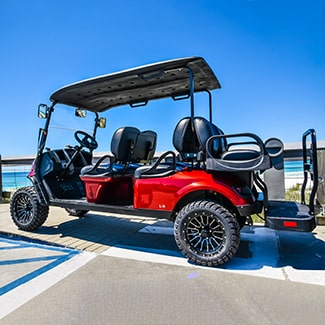 Lady Bug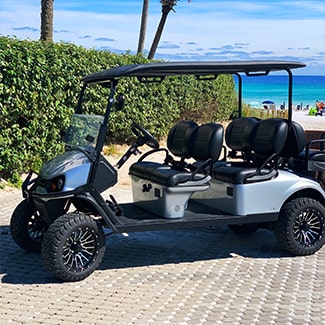 Quicksilver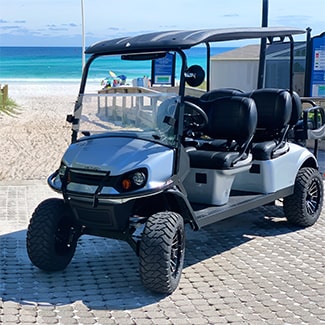 Sea Horse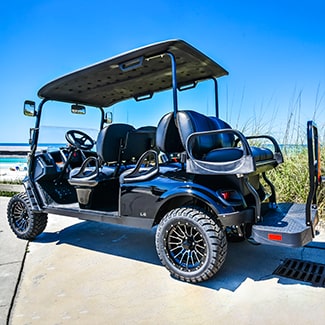 Thunderball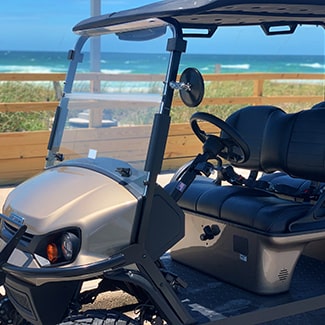 Sand Dollar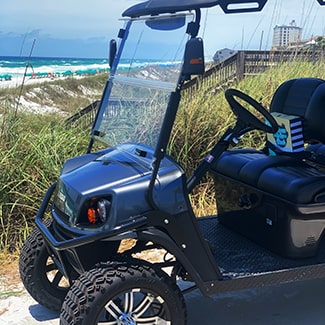 Long Island
Need Airport Hotel Transportation?
Schedule a pickup / return today!
Our Commitment To You
30A Elite Golf Cart Rentals is committed to providing exceptional customer service and the best golf carts in 30A. Golf carts are delivered to your vacation rental the day you arrive and picked up from the rental the day you leave.
Our golf carts are clean and full of gas. Our flexible and affordable pricing options makes it easy for you to enjoy your dream vacation in style and ease!
Elizabeth Holmes
I rarely leave reviews, but my experience with St. Pete Elite Carts was AWESOME not to leave one! I found them through Instagram and they did not disappoint! The pictures they show prove how truly "elite" the carts are. The staff that runs the place are amazing people!!! I would love to shed a light on Jordan, who was professional and gave an efficient service with delivering my cart. St. Pete Elite Carts is fortunate to have an employee of Jordan's caliber! Thank you for a great experience because my family will be renting from here again! THEY HAVE FREE DELIVERY AND PICK UP ALSO.
Annie M
A great way to explore St. Pete Beach! Highly recommend this company, and great that they drop off the cart to you at your location and pick it up. Super easy! Will definitely rent from them again when I return to Treasure Island.
Porya Mansorian
We rent carts often and compared to all prior experiences this crew was A+. Their carts are really nice, but more importantly the nicest staff I have ever dealt with. Professionals and safe, but so fun, high energy, and courteous. Recommend them 100%.
Audrey-Anne Cevaer
They delivered the golf cart and gave a great 5 minute instruction course. The cart was clean and in great condition. We needed it for a function and it preformed awesome.
We will totally used St. Pete Elite Carts in the future for all our functions and events!
Dawn Lasorso
These carts are beautiful and the staff is awesome. They even drop off and pick up for you for free if you are in the area! Would definitely recommend and use again. Thanks for making our trip even more wonderful!!!!
Sam Kelley
I was new to visiting the area and found these guys online and seemed legit. And they proved that they were from the time i called to them verifying the complementary delivery AND pickup to where i was staying. Made it extremely convenient for me and my friends. Otherwise we would of been walking everywhere. The cart was brand new ran great and looked pretty tough as well I recommend using these guys when you come visit 100%
Tonya Elle Evans
The staff provided exceptional customer service and the golf cart was awesome. I recommend St. Pete Elite Carts to anyone planning a short visit or vacation.
Dwayne Mullen
Go see the DD guys and they will take great care of you. Overall we had an awesome experience with his company and cant wait to get back for a cart next month.
...
Torian Fields
BEST VALUE AND COMFORT! I will be recommending this location to ALL my friends and family!!! Love the customer service and Devin personally went out his way to provide my family with an ultimate experience!
Mike Gowell
Awesome service all around. Super responsive, quick delivery and even offered an additional day when the day I had reserved ended up raining all day. 100% will use again when I'm in 30A's.
Holly McKanna
We had the best time driving around town. The employees were friendly, helpful, and fun. We can't wait to do it again!
Samuel Kelley
I was super impressed with the response time of these guys. Good people with great pricing including gas and free pickup/delivery. I'll be booking through them next time around.